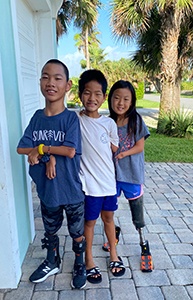 We are the Smith family and we have the privilege to share a little bit of our story in hopes that it would help others in their adoption journey. We have 3 biological children and 3 adopted children from China. Our biological daughter was born missing her left arm above the elbow. She is now 15 and she amazes us on a daily basis with her drive, courage, bravery, and her can-do spirit. She has truly not let missing her arm stop her from anything she wants to do.
Through this experience in our lives we were led to adopt 3 orthopedically challenged children. We have a 14 year old son who has Arthrogryposis, a 10 year old daughter missing both legs above the knee and part of her left arm, and a 7 year old son missing both arms above the elbow. It has truly been a blessing to be able to raise these children to also not let their challenges stop them from doing or accomplishing what they want to do in life.
We have found amazing doctors and a wonderful prosthetic clinic who have helped us tremendously in this journey. We feel that the right team of medical professionals is very important when considering adoption. We all want to provide the best for our children medically which causes us to do our research when we are considering adoption of a special needs child. When we started to consider adopting our son with Arthrogryposis, we did our research to find the best doctor for our son.
Through our research we ended up finding Dr. Feldman who specializes in arthrogryposis at the Paley Institute. Every doctor that our son was taken to in China said there was nothing that could be done, that he would stay in a wheelchair the rest of his life. The first day we took Nixon to see Dr. Feldman was the first time he was given hope that he would walk one day. This was so overwhelming to him and our family to now have hope that he indeed would be able to get his legs and feet straight and be able to take his first steps.
From day one we had peace and a trust that Dr. Feldman was knowledgeable and talented enough to make this happen. We chose Dr. Feldman and his staff and we are so glad that we did. Nixon is walking!! He is thriving like you wouldn't believe and we have Dr. Feldman and his wonderful staff to thank for it. They will forever be a part of Nixon's journey and a forever part of our family.
If you are considering adoption of a special needs child and we can help in any way please feel free to reach out to us. We are here to help support and encourage you on your journey.