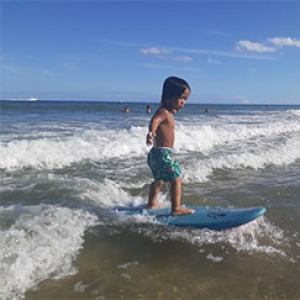 Achondroplasia
Asa is an active 9-year-old boy with Achondroplasia, who doesn't let anything stop him! Asa has been seeing Dr. Feldman and the team for several years. The purpose of his periodic clinic visits is to keep an eye on and monitor common symptoms associated with Achondroplasia.
During one of our clinic visits, we learned that Asa was having bowing of his ulna, which can lead to dislocation at the elbow. Asa had 2 osteotomies of his ulna, and he is now thriving. Each procedure was outpatient, and he needed to be splinted and casted for a few weeks, to keep this active boy and his bones safe.
We have full and total confidence in Team Feldman. The care and compassion they show us is like no other doctors we have encountered. Our goal for Asa is to live a healthy, active, full life.