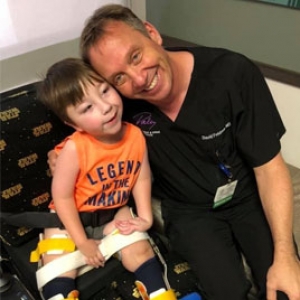 Arthrogryposis
When we found out during our pregnancy that Elliot had Arthrogryposis, the diagnosis felt dire. We were consistently told he would not live but that if he did he would not be able to move, walk, or function like other children. The diagnosis of AMC felt hopeless and the unknown challenges were scary. We felt isolated and alone during one of the hardest times of our life.
Luckily another AMC parent recommended we see Dr. Feldman to see what our options were.
Dr. Feldman was phenomenal to work with. He was patient, caring, and thorough. We knew immediately after our consultation that we wanted to work with him going forward. At age 4, Elliot began a series of surgeries with Dr. Feldman and intensive therapy with his crew. After a hard summer of surgeries and therapy, we came home and continued the hard work.
Two years later, Elliot is walking--something he could never do before--with assistance of his KAFO braces and gait trainer. He has more freedom and potential than ever before. Our family is eternally grateful to Dr. Feldman and his team for the work and care they provide for kids.
Our future includes surgery and continued therapy on Elliot's arms. We look forward to the potential Dr. Feldman will continue to unlock within our child!
Angela
Elliot's Mom