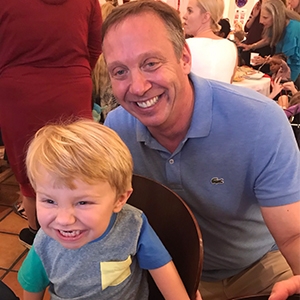 Arthrogryposis
Meet George! George was born June 3rd, 2016. He is one of the most charismatic three year olds you'll ever meet and if you think otherwise he'll just tell you, "Too Bad!"
We discovered around 13 weeks gestation that George was going to have bilateral clubfoot, contracted knees, clenched fists and few other noticeable differences. Upon birth, he was diagnosed with Arthrogryposis Multiplex Congenita, also known as AMC. Born in Charleston SC, there is little known about this condition and so we sought care through several hospitals for children.
When George turned 2, he was just barely learning to scoot on his bottom. We decided it was time to find a way to straighten his knees. All the research that we found gave us two options, the first was external fixators and no doctor would install these until George turned 4. This would require a total of three surgeries PLUS two extra surgeries to repair what they believed to be dislocated hips. The second option was a procedure called "8 plates" and from our personal research from patients who had gone this route it seemed to be the most painful option.
We left both consultations believing that our little boy just may be wheelchair bound for most of his childhood or that he would be wearing external fixators through his first few years of elementary school; both options were devastating.
Then we met Josie Ingram, another 2 year old with the same condition as George who had recently had surgery with Dr. Feldman in West Palm Beach, FL. He straightened her knees in two surgeries and she was already walking!
We immediately drove down and consulted with Dr. Feldman. Within the first ten minutes he said, "George is absolutely a candidate for femoral osteotomies to straighten his knees and his hips just need some soft tissue released, we can schedule surgery whenever you're ready."
Within three months we were scheduled for a five week stay in Florida to undergo surgery with Dr. Feldman. Surgery went exactly as planned and we came home with two, very straight legs.
George is now standing independently and is learning to walk. We couldn't be more grateful that we found Dr. Feldman to give George a new set of legs to walk on.