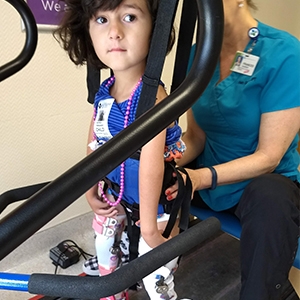 River was born in 2014 with Amyoplasia-type Arthrogryposis. River is asymmetrically affected in her lowers, which has affected her body symmetry, rotation and most movement below her chest. Still, we held off on major surgeries for as long as we could, having her first major surgery just 3 months before our first consultation with Dr. Feldman.
Dr. Feldman was our fifth orthopedic consult. When we met him, I was so glad we had surgery with one other orthopedic surgeon, and that we did only what we HAD to do for her up to that point, and no more.
Not only did Dr. Feldman fix a problem in her hips the previous surgeon had missed, but he fixed what the previous surgeon had not been skilled enough to do. Prior to surgeries with Dr. Feldman, River was not able to place both feet on the floor, much less stand well or walk. Just one month after her second surgery with Dr. Feldman, she took her first-ever independent steps - on her 4th birthday! Thanks to Dr. Feldman, River stands independently and is working hard to walk independently as well.
Dr. Feldman is very knowledgeable and makes a study of using surgical methods and after care that result in the most function and the least trauma. He is constantly working and adjusting in order to improve his methods and implement the best practices. On top of being a skilled surgeon, he is also a genuine, kind, caring physician. The combination is a rare find in a doctor.
The entire team at Paley Institute is equally fantastic. It's actually quite amazing, and is a very tangible feeling from the moment you walk in the front door. The entire staff truly cares about providing quality patient care, from scheduling to billing to child life specialists, from therapy assistants and therapists to physician assistants. The therapy at Paley is truly top-notch. Once you receive treatment at Paley, you quickly come to understand the reasons people travel here from all over the world to receive care.