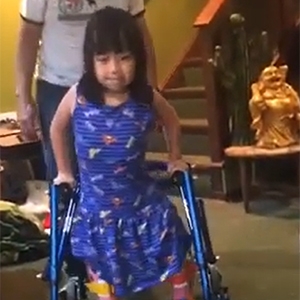 Arthrogryposis
My husband and I were fortunate enough to come across Dr. Feldman in New York City when our son William was just three years old. William was born with a form of skeletal dysplasia, and we dedicated the first several years of his life to trying to identify his disorder and the best way to go about managing it to give him the greatest quality of life.
Before meeting Dr. Feldman, we had met with several different specialists and hospitals in New York City. We were overwhelmed and beginning to become frustrated with the whole process. We just couldn't seem to make that right connection. We were no further along than when we started.
It was after reading an article about Dr. Feldman that I contacted his office. His team was remarkable and caring and we immediately knew we were in the right place. Dr Feldman is a gifted surgeon and a kind and patient man. He always made us feel like we were all in this together. I'm honestly not sure how we would have gotten through the countless surgeries without the support of Dr. Feldman and his team.
To say the Dr. Feldman is a godsend would be to completely understate the significance he has had in our lives and in the life of our son, William. He has taken a once bent and broken frame and given Will the ability to walk, run and live pain free. Our fears were high and our expectations were low when we started this journey. The results that we have experienced over the many years with Dr. Feldman have been nothing short of miraculous. We are forever grateful.
Jen
Suzannah's Mom