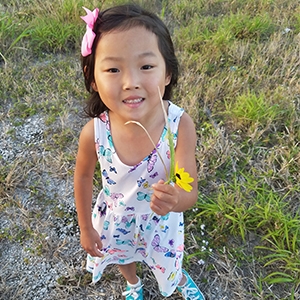 Cerebral Palsy
Dr. Feldman reviewed our daughter Pippa's file during our adoption process, before she ever came home. This is one important piece that adoptive parents need before they commit to bringing home a child from another country. You will be given a medical file that offers some information including a possible diagnosis. However, if you are fortunate you will also get a few videos to see their demeanor and their daily interactions. To be honest, the information from China was limited so anything received is extremely helpful for the family. After reviewing Pippa's file and videos, Dr. Feldman was able to offer information about what he believed the diagnosis to be and a possible care plan could be once Pippa came home. Dr. Feldman reviews many files of kids from other countries, and has a huge heart for adopted kids, and their families.
Our Pippa girl has Cerebral Palsy, she has weekly physical therapy and occupational therapy. Pippa has had serial casting done to help relieve tight muscles with excellent results. Over the course of a month, Pippa had 1 to 2 casts done a week to help with the tightness in her calf and ankle. We found the casting helped with her gait, and we continue to strengthen her muscles for her to walk without her foot turning inwards. Pippa also greatly benefited from Astym during her physical therapy sessions to help with her tight muscles in her legs.
We are so thankful for the continued care we get with Dr. Feldman and his team for our Pippa.