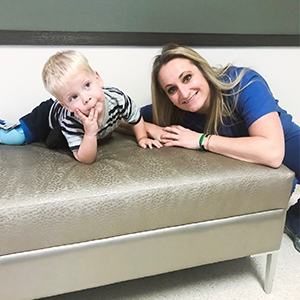 Congenital Pseudarthrosis of the Tibia
Our son Emmett was 6 months old when he was diagnosed with Congenital Pseudarthrosis of the Tibia (or CPT), a rare condition that leads to repeated fractures in the leg, and is extremely difficult to treat. Once diagnosed here in Las Vegas, NV we were told that there weren't a lot of options that were successful, he would go through many surgeries and it would most likely lead to amputation. We were devastated! We scoured the country for doctors who had more knowledge and success in treating this condition because we felt there had to be another option, but we kept coming up short.
Thanks to modern technology we eventually found an entire group of mothers with children who had CPT that visited the Paley Institute and couldn't say enough good things about it. Their children were walking, running, and playing! We flew out to meet Dr. Feldman and instantly knew that this was the doctor for us. He was so knowledgeable, warm, and kind. He assured us they had a procedure that would not only fix his broken leg, but would prevent a fraction from occurring again. It would take one large surgery and then some smaller ones over the years. He answered all our questions thoroughly and spent a lot of time with us that first visit, and kept in touch with us while we waited a year for Emmett to grow big enough for the surgery.
The day we met Dr. Feldman we felt a huge weight lifted off our shoulders and it was the answer to our prayers. We knew without a doubt this was worth the travel across the country and we are thrilled with the results! 10 weeks out of surgery and our son was starting to walk again! Emmett will be able to keep up with his sister and peers, and to us, that is priceless. We cannot thank Dr. Feldman and his team enough. They are seriously miracle workers and such a gift.