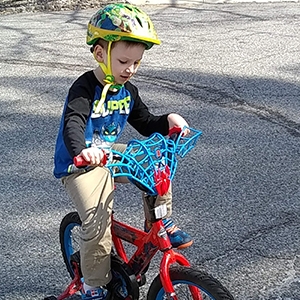 My son, Jackson was diagnosed with pseudarthrosis of his left tibia when he was 10 months old. At the time, there was very little information on his rare condition. We saw many doctors throughout the country, most of which suggested the amputation of Jackson's leg, but we knew if we could find the right doctor there had to be another option.
After a failed surgery with a different doctor in Pennsylvania we were afraid that losing his leg was imminent. My husband and I wanted the best for our son so we continued our search for a doctor that could help Jackson, which brought us to Dr. Feldman. We have been traveling from New Jersey to Florida for years to get the best treatment with Dr. Feldman at the Paley Institute.
From the moment we met Dr. Feldman, we were at ease. He was the only doctor we met that had treated this condition successfully before and spent a lot of time with us to make sure we understood pseudarthrosis and what to expect going forward. His confidence and positivity was very comforting so we scheduled our son's surgery soon after. Surgery is hard on the whole family but Dr. Feldman has always been there to answer any questions and has been very responsive whenever we've had an emergency concern. He is also great with children and always makes our son feel comfortable. We are grateful every day that we found Dr. Feldman when we did and would never consider any other doctor for our son. His passion for helping others with these disabilities is truly inspiring and his dedication to his patients is unmatched. Today, Jackson is a typical, happy 5 year old that loves to run, jump and play sports.
We know that without Dr. Feldman's expertise, these activities wouldn't have been possible for him.