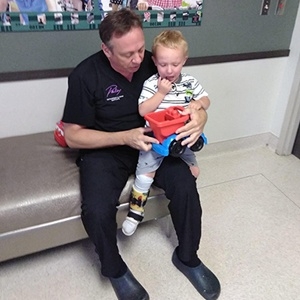 Congenital Pseudarthrosis of the Tibia
Sheldon was around a year old when he was first diagnosed with NF1 and Congenital Pseudarthrosis of the Tibia. That was a very scary time for all of us and with every doctor we went to we lost a little more hope each time. All of the orthopedic doctors in Texas told us it wasn't a matter of IF it would break, it was a matter of WHEN. Every one of them also told us it would likely end in amputation and there were no other options other than surgeries every 6 months until he quit growing or amputation.
I just couldn't accept that this was true. There had to be something. So I went searching and found Dr. Feldman at the Paley Orthopedic and Spine Institute. We were nervous about traveling so far to get more bad news but when we arrived, Dr. Feldman put all of our fears to bed and gave us our first glimpse of hope since this all began. He had no doubt that he could fix this issue that so many before said wasn't fixable. I was still afraid to get my hopes up, but here we are, years after surgery, and Sheldon is a walking testimony of what trusting the right doctor can do.
I thank Dr. Feldman everyday I see Sheldon walking, running and just being a normal little boy. That wouldn't have been possible without Dr. Feldman. Sheldon is a happy, goofy little boy that you'd never know had any kind of issue unless you were told about it. I can't imagine where we would be, or who he would be now if we hadn't taken the chance to visit Dr. Feldman so many years ago.
Amber
Sheldon's Mom