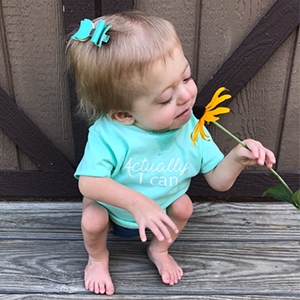 Escobar Syndrome
Adrienne was born on November 22, 2017 by cesarean at 35 weeks at the Children's Hospital of Philadelphia. She was expected to pass away within hours after birth, after being diagnosed with lethal Multiple Pterygium Syndrome when I was 33 weeks pregnant. We had chose palliative care due to her prognosis. To everyone's amazement she was still fighting 3 hours after birth despite no medical intervention. She was already fighting at only a couple hours old. That was when we decided to send her to the NICU for treatment.
Her stay was filled with ups and downs. We were told we were going to lose her again at 2 days old due to a significant decline in her status. Despite everything, she was able to be sent home after 35 days. She was officially diagnosed with Multiple Pterygium Syndrome (Distal Arthrogryposis type 8) around 4 months of age. With this syndrome, she has many abnormalities in her joints and bones as well as respiratory issues. Her legs are severely contracted and have significant webbing, her spine is fused from birth, she has a cervical fusion, fused ribs, sleep apnea and some cardiac issues. We started to seek orthopedic treatment when she was only weeks old. We visited several orthopedic facilities including : Shriners hospital in Philadelphia, Hershey Medical Center and the Children's Hospital of Philadelphia. We didn't feel confident with any of these facilities. Shriners told us that she may never sit up and would not walk, they wanted us to consider bilateral amputation. This was really hard to hear as a parent, I remember crying at the appointment and praying this was not our only option. We were not willing to make this decision without getting another opinion. Luckily, we heard about the Paley Institute from two families that have children with similar conditions.
When Adrienne was 8 months old we decided to make the trip to West Palm Beach to visit Dr. David Feldman. At this appointment, he promised that she would walk! We were amazed by his confidence. He listened to our concerns and answered all of our questions. He not only made sure that we understood everything he was saying, he also made a point to speak directly to Adrienne as well. We knew immediately after this visit that we had found the right surgeon for our daughter.
His plan was to shorten her femur in order to make room to bring up the tendons and nerves that were being stretched in the back of her leg. He would then make an Incision on the back of her leg using a z-plasty technique and remove the webbing. This would allow her leg to straighten. This surgery would be quite involved and leave her with major scarring. She would also need intense physical therapy after.
For the next year he followed us closely and ensured we were doing everything necessary for her upcoming leg surgery. This included two spinal surgeries in May of 2019 that were performed at CHOP. We were grateful that he had suggested these surgeries because it has increased her range of motion significantly. He even allowed us to have FaceTime appointments so we didn't have to travel so far for routine visits.
We arrived for her leg surgery August 7, 2019. She was just over a year and a half old. He took his time at our pre-op visit to explain exactly what this surgery entailed. She was scheduled to have her left leg done first. The surgery was complicated and took over 6 hours to complete. Dr. Feldman came out to talk to us right after and assured us that everything had gone well. We were amazed with the results. The few weeks post surgery him and his physician assistants were always available for any questions we had. He saw us in clinic often and made sure we knew exactly what to do when we went home.
We can not thank him enough for giving our girl the opportunity to walk! She is scheduled to have her other leg done in December of 2019. We cannot wait to see her walk on both feet.
As a parent it is difficult to make decisions for your child. Whether that be a minor decision or a life altering decision, you always wonder what your child would have chosen. Even with all the pain she has endured throughout this process, we are confident that this is what is best for her. We are blessed to have been reassured by a brilliant, talented surgeon such as Dr. Feldman.
Brandi
Adrienne's Mom