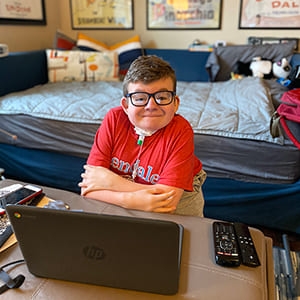 Escobar Syndrome
Springfield, Missouri
Collin is currently fifteen years old and was born in December of 2004 in Springfield, MO. He spent the first five months of his life in the NICU at Children's Mercy in Kansas City. Collin was diagnosed with Jarcho-Levin Syndrome at birth as well as Escobar Syndrome, a form of Arthrogryposis, after further genetic testing. He had a tracheostomy placed at three weeks old and was on a ventilator for lung support until he was two.
Collin has an extensive orthopedic surgical history, including VEPTR rods which were placed to create more room for his lungs when he was a year old. He still has VEPTR rib-to-rib rods that will continue to be adjusted until he stops growing.
At age four Collin had external fixators placed on both legs consecutively over the course of twelve months in an attempt to correct severe knee contractures. He wore KAFOs at night, but did not have any physical therapy at that time. As years passed, the contractures in his legs came back and we were told the best we could expect for Collin would be a functional sitter.
Fast forward to 2019. We heard of the work Dr. Feldman was doing through the Arthrogryposis community. As the contracture in Collin's right leg became increasingly worse, sitting comfortably in his wheelchair became more difficult. We decided to reach out to Dr. Feldman for his opinion and to see if any further correction could be done.
By June of 2019 we were in West Palm Beach, FL for a consultation with Dr. Feldman and his team. Much to our shock and amazement upon meeting with Dr. Feldman, his opinion took us where we never thought we would go. Dr. Feldman thought he could help Collin and believed he would get him to where Collin would be able to walk! In the fall of 2019, Collin had surgeries on both legs two weeks apart with Dr. Feldman. The surgeries shortened Collin's femurs and removed tissue that allowed for movement of nerves and tendons to the point where his legs could straighten as much as possible. Not only were his legs nearly straight, they were not contracted and he could move them independently.
With two months of intense physical therapy at the Paley Orthopedic and Spine Institute immediately following his surgeries along with seven months of continued rehabilitation at home, we are happy to say that Collin has progressed to the point where he can now walk with crutches and ihe is making strides everyday!
A year ago this month (June 2020) we didn't know Collin having the opportunity to walk was even a possibility. Dr. Feldman, his amazing team of physician assistants and physical therapists accomplished the "impossible" and we will forever be grateful for a whole new world of independence for Collin.
Sarah
Collin's Mom
For the past 15 years, my parents told me that doctors said I wouldn't be able to walk, but after seeing Dr. Feldman, I didn't know what to say. At first, I thought my surgeries were going to be easy, but after recovery and starting physical therapy, I then realized it was going to be hard work. Having the surgeries gave me the opportunity to be able to learn to walk. My hope for the future with my walking is to become more independent. Overall, I think it was a great decision!
Collin