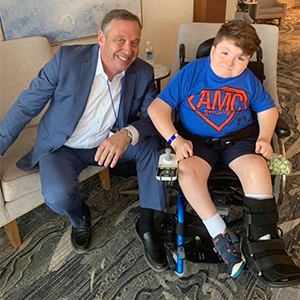 Escobar Syndrome
Owen Sedey was born in March of 2010 with Escobar Syndrome, also known as Multiple Pterygium Syndrome. Escobar is a rare genetic condition and form of Arthrogryposis. When Owen was born, there were approximately 200 globally known cases of Escobar. Children with Escobar Syndrome can present with joint contractures, webbing over their contracted joints, progressive scoliosis, and thoracic insufficiency. Owen has all of the above. Five days after Owen and his twin brother Caleb were born we began treating at Hospital for Joint Diseases (now known as NYU Langone Orthopedic Hospital) in New York for serial casting for Owen's club foot, vertical talus foot, and his knee contractures. About one year after we began treating at HJD, my husband Nick and I heard about Dr. Feldman from parents of children with Arthrogryposis. Dr. Feldman was very well regarded by the parents we spoke with and over and over again we heard that "he knows our children."
We were able to see Dr. Feldman for the first time in September of 2011. Dr. Feldman walked into the room, smiled at Owen, squeezed his thigh and said magic words to us. He said that Owen had great muscle quality in his leg, and that he would get him up and walking. Prior to that, we were told repeatedly that it was unlikely Owen would walk. We were told to prepare for the likely scenario that Owen would be confined to a wheelchair for his life. Despite the doctors advice, Nick and I never lost hope that walking would one day be a possibility for Owen. Once we heard Dr. Feldman say those words, we knew he was the doctor for Owen. Owen had his first surgeries with Dr. Feldman in April and May of 2012. In April of 2012, Dr. Feldman corrected Owen's clubfoot and released his right knee. In May of 2012, Dr. Feldman corrected Owen's vertical talus and released his left knee. After Owen was healed, Owen began to stand at the couch or coffee table. Then he slowly began to take steps along the couch. His physical therapists worked hard with him and in October of 2013, Owen walked down our hallway with his walker.
Since then Dr. Feldman has operated on Owen two additional times for his feet and last fall, when one of Owen's doctors unexpectedly passed away, we called Dr. Feldman and he came through for us in time when we needed him and he performed Owen's bilateral VEPTR expansions at Palm Beach Children's Hospital. This winter we have two additional surgeries scheduled for Owen's hips, knees, and foot and we cannot wait to see how this improves Owen's life. We travel from New York to Florida to continue Owen's treatment with Dr. Feldman.
Dr. Feldman knows our children. Dr. Feldman loves and cares about our children. It is extremely obvious when you meet him. Dr. Feldman wants nothing but the best for the children he treats. He wants to improve the quality of life for those children. Dr. Feldman looks at Owen and tells us the ways in which he can help Owen so that Owen has an easier life. Dr. Feldman is a straight-shooter. He tells you how it is and he is realistic about what can be done for your child. Dr. Feldman is the kind of doctor who is constantly trying to improve, learn, and change so that he can provide the best options for the children he treats. I have heard Dr. Feldman speak two times at the Arthrogryposis Multiplex Congenita Conference. Each time I have listened to him speak, I have been moved to hear him talk about our kids, his hopes for them, and the ways in which he can help them. Now when I speak to the parents of kids like mine, I tell them all to go and see Dr. Feldman.
For me personally, when Owen goes back into surgery with Dr. Feldman, I know that Dr. Feldman is going to treat Owen like he is his own child. I have the utmost faith that Dr. Feldman will do everything he can to keep Owen safe. I know he will work so hard to help Owen. As the mother of a child who has had many many surgical procedures, that's an amazing feeling. We love you Dr. Feldman!
Sara
Owen's Mom