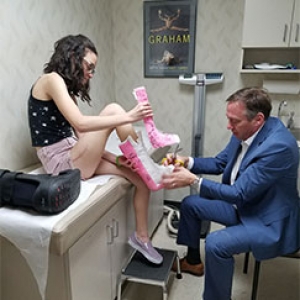 Femoral Anteversion and Tibial Torsion
Ever since I was a baby, I walked differently from everyone else. I was pigeon-toed, bow-legged, and waddled. All of my doctors growing up told me I would grow out of this way of walking, but I never did. By the time I was in 4th grade, I was walking the same with excruciating knee pain as a bonus. At first, my parents thought this sudden pain was convenient since it started the morning of a math test I was not excited to take (I was known to exaggerate feeling sick on school days that happened to coincide with my math tests). I went to school, took the math test, ate lunch, and I was sitting in the nurse's office by recess. My parents knew something was wrong when they heard I was missing my favorite period of the school day -- begging to be sent home.
A few days went by, and the pain in my knee persisted. My parents took me to my first doctor appointment. That was when the chaos started. My pediatrician referred me to two specialists who had no clue why my knee was hurting the way it was. Those doctors referred me to more doctors, who referred me to even more, and so on. One doctor told me I tore my ACL, another doctor told me the only way to fix my legs would be to chop them off and wear prosthetics, and another told me I was faking my pain for attention. For a whole year, I was seeing doctors getting no results.
One day my dad was talking to an old friend about everything that was going on with me and his friend mentioned Dr. Feldman and how Dr. Feldman had helped his son. My dad, getting all excited, booked an appointment. I was not as thrilled. I had been to what felt like a million doctor visits and was not as hopeful. At eight in the morning, we crammed into Dr. Feldman's jam-packed office in downtown NYC. After almost two hours of waiting, it was finally my turn to see him. Dr. Feldman walked into my exam room, and got straight to business. He asked me a few questions about my symptoms, grabbed my legs, bending and turning them, and then told me to step outside the room and walk up and down the hallway. Nurses and other patients were crowding this hallway, but he was only focused on my legs. I walked up and down twice and was told to come back into the room. Dr. Feldman said, "Gabriella, you have excessive femoral anteversion with slight tibial torsion. You are going to need surgery. I am going to need a CT scan to find the rotation of your legs." My parents looked horrified and confused since they had been taking me to every doctor in the city with nothing to show for it. I, on the other hand, was beaming. Without hesitation, I asked, "When can I have the surgery?"
Eight years and seven surgeries later, I am a completely different person. Before Dr. Feldman, it was obvious that there was something wrong with my legs. Everyone I met could tell my legs looked abnormal. Today, when I meet new people, it comes as a surprise that I have been through everything I have. I am still not used to people not automatically knowing that there is something wrong with me. It is honestly amazing how perfect my legs are now and how far I have come. Dr. Feldman is a miracle worker.
Below is my college essay that I wrote in honor of my journey.
My fingers dug into the sand as the ocean's undertow embraced me. Instead of feeling scared, I felt free. I no longer had to calculate the risk of injury from any physical activity (other than walking) that could potentially damage the repair work that straightened out my legs. After seven surgeries in five years, I could finally accept the ocean's invitation to be carefree. The cycle of surgeries felt like a Sisyphean journey. Shortly after healing from one, I was back on the operating table with a team of doctors surrounding me. A nurse would hold my hand while the anesthesiologist asked me to count backwards from ten as he placed the gas mask on my face; by the count of eight I would lose consciousness and wake up immobile and helpless.
Prior to my surgeries, I spent a year without explanations for the searing pain in my left knee; this physical pain, along with the emotional pain of accusations that I was faking it by a doctor, only exacerbated my suffering. Yet, even the pain of waking up post-surgery screaming did not compare to the misery of watching my friends playing tag during recess in elementary school, sitting out of color wars at camp, and being unable to walk to town with my friends on Friday afternoons during the first two years of high school. Being the extrovert that I am, I wanted nothing more than to be engaged in life -- but I had been forced to sit it out.
Despite my initial resentment, I came to understand that sitting offered its own kind of benefits. After my first surgery, my escape to Netflix actually introduced me to something else: my love for movies. Subliminally, I was being educated about camera angles, editing, and lighting. I ultimately mastered the iMovie program and, in later grades, became the "go-to-girl" for video projects. In middle school, my favorite teacher, Mr. Cook, introduced me to the joys of 3D printing, which I never would have explored otherwise. As a result, I became the proud owner of a 3D printer and, soon after that, built my own. All of which led to my business selling fidget spinners at school. In addition to it being fun, I was quite the entrepreneur and donated some of my proceeds to the Ronald McDonald House in New York City.
By high school, I was able to play tennis intermittently between surgeries. Freshman year I only lost one game; nonetheless, I am sure my teammates would have preferred that my excessive femoral anteversion and tibial torsion, or in other words, my severe pigeon-toed condition, was fully corrected before I went on the court. I definitely found the tennis racquet to be a much more appealing piece of equipment than my wheelchair, walker, crutches, or cane.
While I am able to move freely now, sometimes I still forget that I can. I am accustomed to being overly cautious but, on the beach that day, I remembered to let go of the fear that previously restricted me. When I plunged into the water, I let the waves do the rest. I tumbled, fell, and even got a sand burn on top of one of my scars. I refused to remove these "warrior scars" through plastic surgery because they are reminders of what I have been through and what I am able to overcome. Presently, I am learning to skateboard, going on long hikes, and being as active as I can be. I am no longer on the sidelines.
With my surgeries behind me, not only can my imagination run free, but I can finally run towards my goals and dreams. In college I will no longer have to compensate for what I missed. At last, I can experience the pull of the ocean as well as that of the world that is beckoning beyond it.