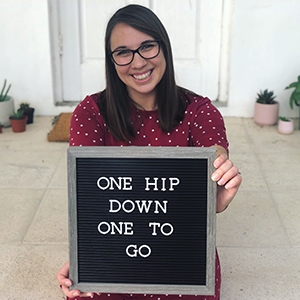 Hip Dysplasia (Adult)
Before I met Dr.Feldman, I thought my chronic hip pain was something I would have to live with for the rest of my life. After all, that is what I had been told by countless doctors and healthcare professionals. One doctor told me "That's not normally where people have hip pain" and that it was all in my head. I had every test and scan possible done, and had even read the words "shallow acetabulum suggesting dysplasia" on x-ray reports, but had been told it was normal, so I lived my life believing this was true. My hips had given out on me to the point where I couldn't walk before, when it started happening again in January of 2019 I knew I needed to pursue a more solid diagnosis.
It was difficult for me to understand why at the young age of 25 was my hip continually giving out on me. I had been through several rounds of physical therapy which helped some, but nothing I did seemed to really help. At the time I was being seen for symptoms of my Ehlers Danlos Syndrome at another hospital in Florida. When they saw my hip x-rays, the surgeon there told me that I had hip dysplasia, and suggested that I have a Periacetabular Osteotomy with one of his colleagues at another hospital out of state. The idea of having my pelvis broken in three places seemed intimidating enough, but having to fly out of state even more so.
I knew that wasn't an option so I joined several PAO facebook groups in hopes of finding a doctor closer to home. Through searching these facebook groups, I found Dr. Feldman. He was spoken so highly of by so many so I decided to make an appointment. My first appointment with him was in May of 2019. The second I walked into the Paley Institute I knew I would be having my surgery there. It felt like home and I wanted to be a part of the family that was happening there. Nicole came into the room and was so warm and welcoming. She saw me as a whole person, not just for what I was being treated for. Dr. Feldman came in next and took one look at my x-rays and said "You're right. You are a 25 year old mess. You have congenital hip dysplasia. You've had this your whole entire life and we can fix this." Even thinking about it now I can still feel the same weight being lifted off my shoulders as I did in that moment. Dr. Feldman took years of can't and turned it into can in a matter of minutes. Not only did he believe me, but he explained to me and showed me on my x-rays why I had been feeling this way. Having EDS, I had some concerns with this regarding surgery, but Dr. Feldman reassured me and felt confident that a PAO was my best option moving forward.
I was on a time restraint and Dr. Feldman assured me he could work with me to get the surgery date within that time. We had barely left Paley when I received a phone call to schedule my surgery. I was on the calendar for less then a month away, on June 21st, 2019. Leading up to my surgery, I was a little nervous not knowing what to expect, but I knew I was in the best hands. Every person is different and each surgery comes with its unique set of challenges but my surgery and recovery experience was more positive then I could have imagined. My pain was not nearly as bad as I thought it would be and was extremely well managed. While I was in the hospital Nicole checked on me every day, and my nurses and team at St. Mary's treated us with the highest quality of care. When I got up for the first time in the hospital, I could tell an immediate difference in my pain and knew that the surgical pain was only temporary compared to what I had been feeling for years. I wanted to shout it from the rooftops how happy I was to have done this surgery. When I got home, I was out and about with friends, attending Church regularly, and living life as normally as I could with the restrictions I had. The recovery feels long, but before I knew it, I was up and walking again, working to regain my strength and mobility. The best part of it all- I was pain free!
My right hip was feeling better then ever and getting stronger every day but my left hip continued to hold me back. Going into it all we knew that I would need to have both hips operated on so at my 12 week follow up, we scheduled my Left PAO surgery for December 6th, 2019. This time around, I was so confident going into surgery knowing exactly what to expect. As I was counting down the days until my second surgery, I was filled with excitement and hope to being one step closer to living a life without limits. I can't wait until the day when I am recovered from both surgery doing everything I had dreamed of doing and more. Dr. Feldman has given me the priceless gift of quality of life. His skill and expertise are truly unmatched and I am so grateful for how he has completely changed my life through these surgeries. Words cannot express the gratitude I have for Dr. Feldman and his team. I am so thankful for everything they have done and continue to do for me.