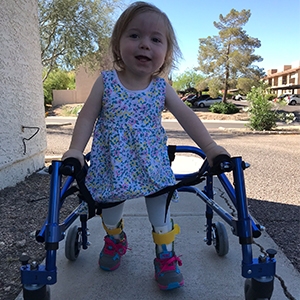 Larsen Syndrome
Gianna was born with bilateral clubbed feet, dislocated knees, hips and elbows, as well as subluxated shoulders and clenched hands. Although she is still technically undiagnosed, her condition is most similar to Larsen's Syndrome. She began orthopedic treatment at one week old, and physical and occupational therapy soon after. Clubfoot is generally corrected in 4-7 casts; however, Gianna had 19 rounds of casting with several pediatric orthopedic specialists but her knees were still dislocated and feet only partially improved so the next course of treatment was going to be surgical correction. We saw several specialists who had different surgical plans, but none were confident that the surgeries would give Gianna full abilities. There were a lot of "ifs" involved and they seemed doubtful that she'd be able to walk.
At that point, we had seen more and more people raving about Dr. Feldman at The Paley Institute. We decided to schedule a consult with him prior to scheduling surgery with one of her other doctors. At our consult, Dr. Feldman looked us in the eye and said, "I promise you she will walk." That was the first time ANY doctor had told us that, so we were confident trusting him for her treatment!
Dr. Feldman operated on Gianna's feet and knees in the Fall of 2018, and we stayed in FL for treatment with his physical therapy team through January. She was weight-bearing (for the first time in her life) by December, and took her first independent steps using a walker in January. She can now walk in her walker for almost 30 minutes, and is beginning to pull herself to standing on her own!
Although she will need more surgical treatment in the future, at least on her hips and elbows, she is doing better than anyone expected and there is no one else we would trust to take care of her! We are incredibly thankful for what Dr. Feldman has given her (and us)!