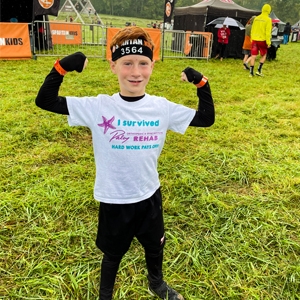 Multiple Hereditary Exostoses
When Dr. Feldman asked us to write something about James and his MHE journey I was honored and ready to go. Writing is one of my favorite things to do and talking about my kids, well that is too. The task seemed easy at first then this weight of saying the right thing to encourage others through his story became heavy and I hit a roadblock. It has taken me months to write this…
James' case is a spontaneous one and we had never heard of Multiple Hereditary Exostosis (MHE). Our son's story of how it was diagnosed is a frustrating one as most people who have a rare disease can attest to. The thankful thing about MHE is that it's distinctive on X-rays but it's how the doctor treats it that seems to stump most unless they are familiar with the disease.
James was diagnosed with an osteochondroma on his right scapula at the age of one. MHE was never in the vocabulary from his orthopedic doctor until we did some research knowing that there were more tumors than the one on his shoulder. Essentially, after his first surgery removing one of the largest tumors Vanderbilts Orthopedic surgeon has seen (including adults), we diagnosed him ourselves. This led us to a bit of concern for the care he received and on a path to find more suitable care for our son. It all led us to the Clinical Drug Trial at the Paley Institute for MHE and my first of many conversations with Sarah Zeigler.
The drug trial started in 2019 and James took his medication every morning with yogurt or jello. It was very closely monitored, and we felt very hopeful. At the time the trial started for James his tumors were multiplying rapidly and grew large. From just looking at him (he's super skinny so you can see most of his "bumps" we did not notice any new ones forming during the trial. We tried to not get our hopes up since this was a blind trial. When it abruptly ended, we were devastated. Within a few months of stopping the medication it was clear that his tumors were back, and they were coming back with a vengeance.
James is now 8 years old and in third grade. Starting at four years old he has had six surgeries, three of them being in one calendar year. Within those six surgeries multiple procedures were done and countless tumors have been removed along with, nerve decompressions, tendon repairs, and a rod put in arm that was bowed and dislocated from his elbow and wrist. To optimize our time since we travel from Tennessee to Florida, we had chosen to do multiple procedures at once. He's had surgeries on both legs at the same time, he has had intense therapies after each one and I got to tell you he bounces back better than ever each time. It's incredible to see what he has endured and how fast he recovers.
Dr. Feldman and his team is different than any other doctor experience we've had. We know he's one of the best surgeons there is and the knowledge that both he and Dr. Huser have on MHE has been invaluable to us as parents and to James' quality of life. They are some of the busiest surgeons there are yet when it's time to be seen he takes the time to converse with our son, answer all the questions (I have a lot all the time), and shows they really truly care about him and his wellbeing. I honestly think it all attributes to James' attitude towards this diseaseand his treatments.
Listen, I'm not going to sugar coat MHE. It sucks. It's hard discerning what surgeries to do and when, it's hard trying to figure out from a 5-year-old what kind of pain he's truly having, and it's really-hard seeing your child suffer knowing that this is a lifelong incurable disease. It's sad seeing my son not being able to participate in sports his friends are because he's recovering from surgeries. It's a financial toll and we must make sacrifices to travel for surgeries and treatment. But through all the struggles there's hope. This is his life, and he has shown us so much bravery and resilience that is admirable.
For example, a year after he had major surgery on both legs and had nerve repair, he completed the Spartan Kids race that he absolutely crushed. He started doing gymnastics in between surgeries to help keep his strength and stretching to help alleviate pain. This year he is finally able to do baseball and he is thriving physically. We are so proud of him. As he gets older, we have been told there are going to be much more in-depth surgeries to be done and while it's daunting looking at the future ahead, we have learned to learn to live in the moment. He is more than able, and James is just like any other kid with a few extra challenges.
James' motto has been, "This is the life!" since after 6 weeks of relearning to walk he was finally able to run, and he realized just how special that is. He was so excited he yelled out "THIS IS THE LIFE!" and when you meet him, you quickly come to realize this is how he lives out every moment.
Adele
James' Mom