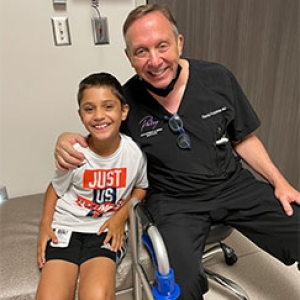 Nikhil was diagnosed with Multiple Hereditary Exostoses (MHE) when he was two years old. This was not a surprise as we knew he had a 50% chance of inheriting MHE based on family history. We continued to monitor his growth and development yearly. It wasn't until he was nine years old that major issues started to arise.
Nikhil missed his yearly appointment during 2020 due to COVID, and so it had been two years since he was last seen by his orthopedic surgeon. During this visit, we were told that his left leg was growing crooked (causing knock knees) and that he was at high risk of developing hip dysplasia as his hips were growing at an incorrect angle. It was recommended to insert metal plates in his knees to correct the crookedness and to have hip osteotomies performed to correct his hip alignment. We were told that surgery should be completed within the next year. Nikhil also had a lot of tightness in his hamstrings so physical therapy was ordered. We immediately sought the opinion of a second orthopedist from our hometown and his recommendation was inline with Nikhil's doctor.
Nikhil had worked over the years with a physical therapist at our local children's hospital to address various issues with his condition. We returned to see her the week after Nikhil's consult with his orthopedic doctor. During this session, the physical therapist mentioned that Nikhil was her second patient that she was treating with MHE, which is a rare condition (1 out of 50,000 children are affected). We immediately asked if the family of this MHE patient would be willing to speak with us. Our PT put us in contact with the family, who has a 14-year-old daughter with MHE and is a patient of Dr. Feldman's.
This local family initially worked with an orthopedic surgeon in our hometown; however, they did not have good results with her first surgeries. After reaching out to Sarah Ziegler at the MHE Foundation, they found Dr. Feldman. Their daughter sub sequently under went several surgeries with Dr. Feldman, who was able to help relieve pain and address various limb issues. This family also put us in touch with a second family in our hometown who has a son with MHE and who is also a patient of Dr. Feldman's. After speaking with both families about their experiences with the Paley Institute and Dr. Feldman, we scheduled an in-person consult in West Palm Beach.
During Nikhil's consult, we were made aware that his issues were much more pervasive than we had originally thought. His most immediate issue was to remove a bone growth behind his left calf, which was causing the most amount of pain. This bone growth was putting pressure on the peroneal nerve, which was causing him to not be able to pick up his left foot (known as footdrop). Neither doctor in our hometown were willing to operate on his left calf because of the risk of damaging the nerve. Dr. Feldman told us that this was the single most important bone growth to operate on because his number one goal for each patient is to first address pain. He is also very skilled at operating around the peroneal nerve, having performed this procedure hundreds of times. We quickly realized that Dr. Feldman has a very different approach. He doesn't wait for limb issues to arise and then correct them. He is proactive in reviewing and treating the entire body, not solely what is acutely hurting. And he plans for the long-term,understanding that other issues will arise. For example, Nikhil did not have any pain in his ankles, but Dr. Feldman suggested to insert screws to guide his growth, which would ensure alignment down the road.
After his consult at the Paley Institute, Nikhil was scheduled for surgery three weeks later to insert metal O-plates in both knees and screws in both ankles, along with removing multiple bone growths (including a peroneal nerve decompression to remove the bone growth on his left calf). Four weeks later he had a varus derotational osteotomy on his left hip followed by the right hip four weeks after that. We spent three months in West Palm Beach for the surgeries and recoveries.
Our experience with Dr. Feldman and his team has been unparalleled. His care for his patients and his expertise in dealing with children with specialized needs is world-class. We feel extraordinarily confident in our decision to have Nikhil cared for by Dr. Feldman and there is no place we would recommend other than the Paley Institute for children with MHE.
Maddie
Nikhil's Mom