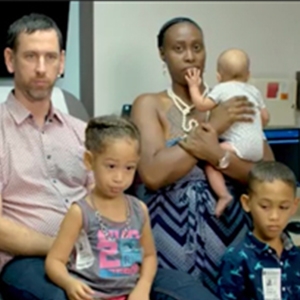 My husband, Matthew, had a motorcycle accident on March 21, 2017 in Wildwood, Florida. He was transported via ambulance to a trauma hospital in Ocala, Florida with a 3B compound fracture to his left tibia. He had 5 surgeries at that hospital in a 2 week period of time. We had a bone graft from his hip performed approximately 6 weeks later. He was released to return to work on September 19, 2017. At that time he could not bear weight on his leg. He climbs 60 foot electric power poles for a living so there was no possibility that he could return to work in his condition. We then went to a hospital in Gainesville, Florida. There we had another 5 surgeries. The original bone graft had failed and resulted in an approximate 2.5 inch piece of bone that was not forming. The bone was removed and the options that we were given were to try another bone graft, shorten his leg, or amputate above the knee. We were not happy with the treatment options or the fact that we felt pressured to make a certain decision.
We called The Paley Institute and got an appointment with Dr. Feldman on December 1, 2017. Dr. Feldman was the first doctor to actually listen before deciding on what would need to be done. All of the other doctors already had a treatment plan before even meeting us. It was extremely frustrating to not be heard. Dr. Feldman gave us lots of options and did not even entertain the thought of amputation. That was a huge relief for us. He decided that my husband would be a good candidate for the Precice IM nail and surgery was scheduled for 2 weeks later.
On December 12, 2017 the Precice was placed. It was amazing to be able to see my husband regrow his own bone. Dr. Feldman was available to us 100% of the time for anything that came up; he was in constant communication. Between Dr. Feldman and his staff, there wasn't a single thing that we needed that was not handled immediately.
My husband returned to work on October 1, 2018. Dr. Feldman made this experience so much better for us. The level of care and compassion that he has shown to us and our family was outstanding. A huge bonus for us, since we homeschool our 4 children, is that they were welcomed to every appointment and in the hospital.