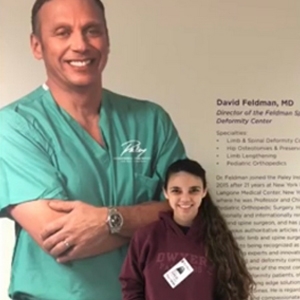 Scoliosis
The scar down Ashley's back, the one concealing two titanium rods fused and screwed to her spine, is 12 inches long, basically, the length of her middle back (thoracic spine). At Ashley's Orthopedic Doctor's appointment in July of 2018, at the age of 15, it was recommended that she have spinal fusion surgery for her scoliosis curve. The fear in Ashley's eyes was overwhelming.
Then there was a soft voice that sat next to her and held her hand, and said, "I am NOT going to let anything bad happen to you." That voice came from Dr. David Feldman, Director of the Spinal Deformity at the Paley Orthopedic & Spine Institute. With a tear running down her cheek, he said we are in this together, then turned to Ashley's dad and me, and said, "as a team." I knew right then that we were in the best of hands (literally).
Ashley's surgery was scheduled for December 12, 2018. During those five months we came up with so many questions, concerns, fears, etc., and there were many emails to Dr. Feldman, and his amazing team of physician assistants (Tiffany & Nicole) answered every single email that we sent, many of them after hours and/or on the weekend. On Wednesday, December 12, 2018, at 7:00 am, Dr. Feldman and Tiffany met us in the pre-operating room to reassure us that Ashley was in the best place and had the best doctors to perform this surgery. Just as promised, we had hourly updates from Dr. Feldman's incredible staff throughout the six hour surgery, and when she was done, Dr. Feldman came into the waiting room. As I slowly began to cry, he sat down beside me, took my hand and in a soft voice he told me she was "straight"…
Recovery was rough. On Christmas Eve, Ashley's scar dressing came off while she was in the shower and she became very worried that we did not have anything to replace the dressing. I took a chance and emailed Dr. Feldman. No less than five minutes after I hit send, he responded to my email and reassured Ashley that all was fine. On Christmas Eve, he saved the holiday with just a reply. I have never had a doctor that I felt was there for us 24/7.
Three weeks after surgery Ashley was back in school. She was named an all-star cheerleader in April of 2019, and in May of 2019 she advanced to the Varsity Cheerleading team. With therapy at the Paley institute and the continued support of Dr. Feldman and his team, Ashley is recovering, stronger every day, back to being a flyer on the cheer team, practicing for her driving test, going to water parks, and so much more. Thank you Dr. Feldman and everyone at the Paley Institute and St. Mary's Medical Center for all that you did to make Ashley "straight" again.
Amy Szoke
Ashley's Mom