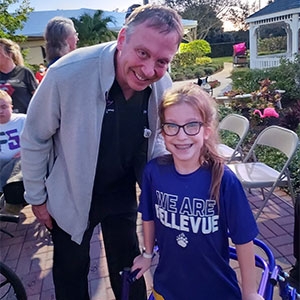 Abigail was born with Spina Bifida, Hydrocephalus, Chiari Malformation, Club Foot and Vertical Talus in 2011. Abigail lives in Nebraska and at the age of 5 Abigail started seeing Dr. Dobbs in St. Louis, Missouri after we knew there was more to be done to help her feet. Doctors near us had tried numerous times unsuccessfully, so we began researching, and found Dr. Dobbs and reached out to him through Facebook. He began working on Abigail's feet, first correcting her Club Foot, and then we started discussions to discuss her Vertical Talus foot.
We were heartbroken when he moved to Florida, but knew we needed to figure out a way to continue to see him to treat her Vertical Talus foot. So in January of 2021, at the age of 10 Abigail had her final surgery with Dr. Dobbs in Florida on her Vertical Talus foot. We were then at a recheck with Dr. Dobbs in May of 2021. At that point he told us her feet looked beautiful, but he had a friend who was a Doctor and he felt that he could help Abigail with her legs. The next day we met Dr. Feldman for the first time.
Doctors had always told us Abigail's legs would just always be at a bend, that's what happens when a kid has spina bifida, and it would get worse, and eventually she would need to be in a wheelchair full time. They told us we should be happy she could walk at all because no one ever expected her to be able to. Dr. Feldman's office worked with us to get in to see him before we flew out the next day. We got there, and took X-Rays and then he came in to meet us. Dr. Feldman told us Abigail was beautiful as she was, but he knew he could help get her legs straighter. In addition within minutes he had done an assessment and for the first time in her life we knew her true lesion level which we had asked doctors about for years.
At that point, Abigail had a 25 degree bend in both legs. Dr. Feldman explained how hard this was for her to maintain walking, and that as she grew, this would continue to get harder. We walked out of his office that day, saying we would go home and be in contact with him. As soon as we walked out of the Paley Institute Abigail, in her 10 year old wisdom, turned to me and said, "Mom I want to walk forever, we are going to do this surgery."
As soon as we got home, we started working to figure out how to make this whole process feasible. Dr. Feldman's office was wonderful, they answered countless questions about the surgery, told us about lodging choices, we reached out to Miracle Flights and the Quantum House, and started the ball rolling. Abigail arrived in Florida in November of 2021 to have her surgery with Dr. Feldman. She proudly told him he would be performing her 30th surgery of her life, and she couldn't wait to see how great it was. Dr. Feldman did a wonderful job with us answering our last minute questions the day before surgery, and then coming out to talk to me as surgery was finishing up. He was able to get Abigail's legs corrected to a 0 degree bend, but told us, now it was up to Abigail to put the work in to keep them there. We remained in Florida after the surgery, staying at Quantum House and working with the Paley Institute's physical therapists to get Abigail up and moving again. Abigail was determined we were not going to stay over a month, because she wanted to get home to be with her family and friends again before Christmas.
Dr. Feldman was at the Quantum House for a Hanukkah celebration and it was the first time he had seen Abigail since surgery. She was scheduled to see him the next day in his office, and she was up and walking with a walker. He saw her and told her we would be discussing returning home because he couldn't believe how well she was doing. We spent a total of 27 days in Florida for this surgery and recovery from the time we checked into the Quantum House until we checked out to fly home.
Abigail continues to work hard with her physical therapists at home, and will continue to gain strength throughout the year as she works to get back to where she was before surgery, stamina wise, and learn to use all her new muscles she has never utilized before.
We are so grateful that Dr. Dobbs moved to Florida, and introduced us to Dr. Feldman. Without this introduction, I don't know that we would have ever pursued anything in regards to Abigail's legs. The progress Abigail has made has been remarkable, and we are thrilled with the choice we made to visit Dr. Feldman. Dr. Feldman is a wonderful surgeon, but also a wonderful person. He truly cares about his patients and wants to help them to live their life to the fullest.
Abigail has accomplished big things in the summer of 2022. She and her family took a vacation to Colorado. She did a challenging 3.5 mile hike through Red Rock Open Space, walked the almost mile to the seven falls and then climbed the 224 stairs to the top of Broadmoor Seven Falls and back down, and the mile back, and hiked in Garden of the Gods.
In addition, she competed in the National Miss Amazing event. Abigail walked the entire weekend and that included walking around Vanderbilt and all through the competition venue. She refused her wheelchair and said she could do it. She did a fantastic job, including telling the judges she wants to be an orthopedic surgeon to be able to help kids walk and keeping them walking longer and better. She was crowned as first runner up from all the girls throughout the whole United States. Thank you so much for your amazing work, Abigail said Dr. Feldman helped me do things I could not have done a year ago. The confidence she has is amazing!
Sarah
Abigail's Mom