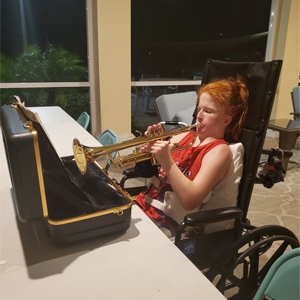 My name is Haley, I'm 16, and I have what's called Escobar Syndrome. So far I've had 23 surgeries, give or take a few. Escobar Syndrome is a neuromuscular disability that affects the muscles and joints.
I first came to Paley Institute looking to correct scoliosis, and although I didn't end up correcting that, they have helped me with so much more.
One of the biggest differences I've noticed is in marching band. I've always loved music and started playing the trumpet in middle school. Naturally, when it came time to join the marching band I was really excited and took the challenge on. Due to lack of motion in my hip and feet pain, participating in events was proven extremely difficult for me, especially when we marched in parades.
I did not have the range of motion to take the longer steps I needed to keep up with everyone else, while staying in step and playing, so I quickly fell behind. I often had to sit out on practices or leave parades half way through because I fell behind or I was in too much pain.
However, thanks to Dr. Feldman and his team I was able to march in my first short parade three weeks ago. And then last Friday I marched with the band in my first full-length parade, around our school, and performed at our homecoming football game, all in one day. I have been able to do so much more and I am very grateful for that.
On top of this I have been able to watch my younger brother, who also has the same condition, overcome the same type of challenges while working with Dr. Feldman and his team. God truly blessed us with what we thought was just a "second opinion". Thanks to everyone who was part of this journey!